You know you are meant for more
You are ready to achieve great things, to change lives, to fully live your dream life.
You know that you have what it takes. But you don't know how to change your life for the better.
Chances are that you feel like you're stuck in your
(9 to 5) job or in your life. You have tried it all.
Bought all the courses, joined all the free webinars and visited all the events, but you are still not where you thought you should be.
It is time for the big shift and you realize you can't do it on your own.
It is my goal to help female entrepreneurs, just like yourself, to follow their energy and live a life full of freedom and to grow their business. To help you life live on your terms while working less and growing your business.
All my life I have been on a different path than others. I have worked really hard to chase my dreams. First I have turned my love for festivals into my freelance work. Later I took my love for Pinterest and turned it into a business and a passive income stream.
Now I am living a nomadic life while running my online business as a freedom coach.
Over the years I have learned a lot about building and growing an online business. Now it is time to share my experience and guide others on their paths.
I am not a coach who will tell you what to do. Together we will figure out what works for you and what is your way of doing business. I am a coach who helps you achieve your dreams faster. I know the shortcuts and what the next step is. 
I am here to help you, but you have to be the one who does all the work.
If you are up for that, I'm your girl!
Want to know if we are a match?
You have worked incredibly hard. Now it is time to work less and enjoy life more.  Work smarter, not harder.
You feel overwhelmed all the time. There are so much options to grow your business. You often work IN your business instead of AT your business.
You know your business is meant to become bigger, but you dont know what actions to take to grow to that other level.
You want to have a passive income next to your services.
You are longing for a life with more freedom. You don't want to work all day and want to enjoy life more.
You are willing to do whatever it takes to live more in alignment.
If you want to create a profitable business and
unleash your potential
, it's time to find someone who not only believes and supports your mission, but who also knows how to achieve all of your goals. In the most simple and effective way.
know what you want and how you are gonna achieve it.
will find YOUR way in building your business.
work through your limiting beliefs and change them into powerful beliefs.
will be held accountable for your actions.
GROW your business in a way that is aligned with your dreams
will take MASSIVE actions on the needle moving activities.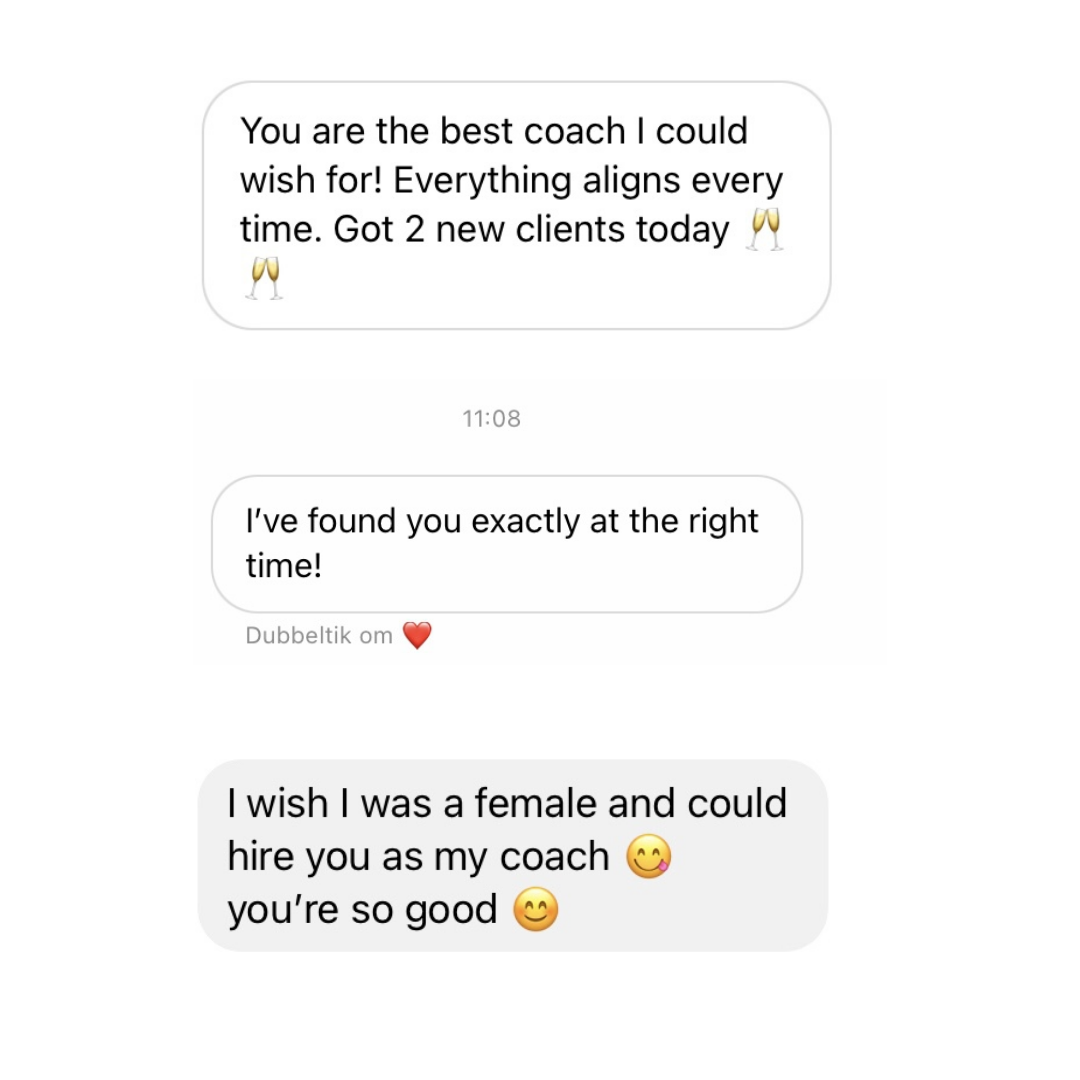 6 online calls (bi weekly)
Daily Voxer coaching during working hours
Bonus: The Freedom Course (€179)
12 online calls (bi weekly)
Daily Voxer coaching during working hours
Bonus: All courses that are live during our time together
When can we start?
We can't start soon enough. If I have the space in my calendar, we can start immediatly. When you book the package, you will get an email so you can book in the sessions right away. If you want to know if there is room in my calendar, just send me a quick message on Instagram or through this form. I will get back to you as soon as I can.
I just started my business, is this something for me?
Only you can tell if this is the right coaching for you. I am not gonna convince you to work with me. If you know deep down that this is the next step you want to take, yes it is the right coaching for you.
Is there a payment plan?
Yes, I do have a payment plan. You can choose to pay the amoun in once before out first session, or you can choose the monthly plan. In that case you will get an invoice every month and you will pay €750 (3 months) or €600 (6 months)
What is Voxer coaching?
Voxer coaching is coaching through the app Voxer. With Voxer you an easily send text and voice messages. I love to use voice memo's to coach people, because you can feel the energy through the voice. You can send me updates, wins or questions all day every day and during workdays I will always reply within 24 hours.